Mobile proxies for Netpeak Checker: what they give, how to set them up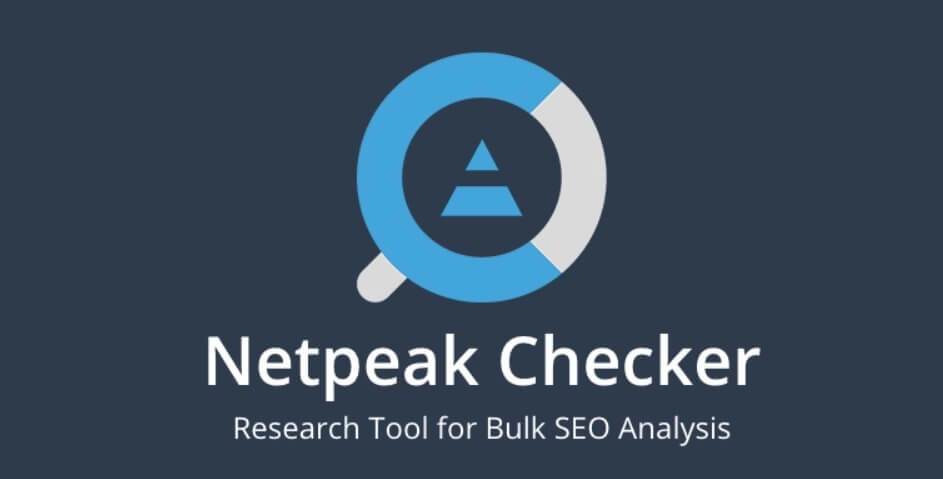 Specialize in SEO-optimization and website promotion? Will there be work on mass analysis and comparison of a huge number of parameters of Internet resources? Take advantage of the automated multi-tool – Netpeak Checker. In its work, the software uses over 380 parameters from the most famous SEO services (Ahrefs, LinkPad, SimilarWeb, Alexa, Moz, Majestic, Serpstat, SEMrush), search engines Google, Yandex, Bing and Yahoo, social networks Facebook and Pinterest, as well as databases WHOIS data, Wayback Machine, etc.
Let's get acquainted in more detail with the functions and capabilities, the nuances of work. Let's talk about the benefits that a Netpeak Checker user will get from connecting to a proxy program. We will show you where to buy reliable servers to work with this program and how to make the appropriate settings.
Functions and features of Netpeak Checker
Netpeak Checker is able to automate a huge number of routine tasks that an SEO specialist faces daily in his work. So, among the main points it is worth highlighting:
assessment of the link profile of an Internet resource;
Clustering queries and keywords, grouping them into high- and low-frequency ones, clustering the semantic core;
comprehensive analysis of marketing strategy and competitors' websites;
parsing search engine results, studying user activity and analyzing it in social networks;
assessing the quality of sites for placing a link mass;
search for abandoned domains, as well as check the availability, age, expiration date of the domain before buying;
quick search for ideas for writing informative and useful articles;
getting contact information from a list of pages, etc.
The program brings all the data into one table. Here, they are already sorted, filtered and grouped, based on the features of the upcoming work. Further, all this data is formed into reports, which will be convenient to work with in the future.
Benefits of connecting a proxy to Netpeak Checker
But before moving on to the installation, you need to understand how this application works. So, parsing of key queries is carried out in multi-threaded mode. And these actions are easily identified by search bots. As a result, your computer's IP address is blocked. Forever and without any trial. You can avoid this and ensure stable operation by additionally connecting proxy servers to Netpeak Checker. They will replace your real technical data (PC IP address, geolocation) with their own. This ensures:
Stability in multi-threaded mode: your actions will look quite natural for search engines, which eliminates the possibility of blocking;
anonymity of browsing the Internet: without knowing the IP address it is impossible to "log out"; on the end user;
high level of security, protection against any unauthorized access, including hacker attacks;
Effective bypass of regional blocking: requests will be parsed from any sites in the world, even from those that are currently blocked in your country at the legislative level;
high speed of work: high-speed communication channels are used, data caching is provided.
Best proxies for parsing in Netpeak Checker
Only reliable private proxy servers can guarantee the described benefits. A free product presented on the Internet with free access – not the best solution for the task at hand. They are very slow, their security level is quite low, but the probability of blocking, on the contrary, is too high. And the reason is here – in general availability. That is, they are simultaneously used by a huge number of people, which causes similar problems. Such servers will simply slow down your work, requiring additional time and effort.
Much more reliable than – connect private proxies from the MobileProxy.Space service to the Netpeak Checker program. In this case, you will receive a dedicated communication channel with a bandwidth of 1 Gbps and unlimited traffic. It also provides simultaneous support for HTTP(S) and Socks5 protocols. At a more than attractive price, you can purchase proxies for any period of time: 1 day, 1 week, 1 month, 3 months, 1 year with a quick and easy renewal. But keep in mind: the longer the purchase period, the cheaper the day of use is. And all this in a complex with round-the-clock technical support.
After the purchase, the technical data of the proxy server will be displayed in your personal account. They will be useful to you in the process of connecting to the Netpeak Checker program. Now let's move on to the settings.
Step-by-step instructions for setting up a proxy in Netpeak Checker
There are three ways to connect a proxy to Netpeak Checker:
By adding a line. We start the program. In the top toolbar we find the "Settings" tab; and select the "List of proxy" option from the drop-down list. A new window opens, in which you need to click on the "Add Row" button; in the vertical menu on the left side. Here, in the appropriate boxes, enter the IP address and port of the proxy, as well as your username and password to access it. Need to add another server? Click on "Add Row" again. And so on until all proxies are listed in the table.


Manual input. We do the same steps as in the previous version. We launch the program, go to "Settings", then "Proxy List". But in the vertical right menu, we already select the option "Enter manually". After that, a completely empty window will open in front of you, in which you will need to enter the IP address and port of the proxy (and in the case of the provided authorization, then the login, password to access it), using a colon as a separator between them. When connecting several proxies, you must enter the data for each of them on a new line. After that, click on the "Add" button.
From the clipboard. In this case, you must first create a list of proxies and save the file to your computer. All server parameters are entered through a colon. Each proxy is specified on a new line. Next, launch Netpeak Checker, go to "Settings", and then "Proxy List". In the vertical right menu, click on the "Insert" button. We indicate to the computer the path to your file with servers. All of them will be automatically pulled into the program.

This completes the settings. But it is still desirable to check how proxies work in search engines. To do this, click on the "Check" button. in the right vertical menu. A list with the most popular search engines will drop out. Click on the one you want to test. Or you can press the F1, F2, F3, F4 or F5 button corresponding to each search engine. After checking, active proxies will be highlighted in green, and inactive – red.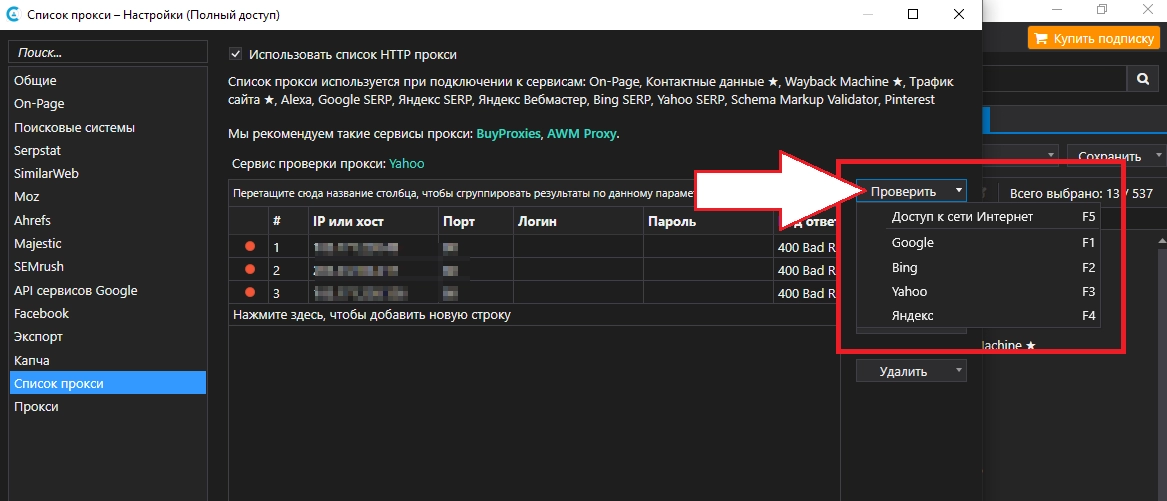 p>
Now you can definitely start effective SEO promotion without fear of blocking and other sanctions.
---
Share this article: