Ultimate Orb anti-detect browser: what is useful to know about it?
Antidetect browsers – special software that is actively used by many professionals whose daily work is connected with the Internet. We are talking about those who are engaged in traffic arbitration, SMM-managers, those whose earnings are associated with affiliate programs and all those for whom multi-accounting – not just a sound. These applications are able to replace the browser fingerprint, which contains a lot of personal information about the user. This allows you to eventually create an unlimited number of unique Internet profiles that are not tied to a real person. Thanks to this, it is possible to simultaneously work with multiple accounts in social networks and other sites. The advantages of using anti-detect browsers will also be appreciated by those that specialize in cryptocurrencies, bonus hunting, betting on sports in bookmakers, etc.
The modern market offers modern users a fairly large selection of such software. But now we will dwell in more detail on one of the most advanced and technologically advanced solutions for today – antidetect browser Ultimate Orb. Let's get acquainted with its functionality, features of work. We will tell you why it is additionally worth connecting mobile proxies and show you where to buy a worthy product with the greatest benefit.
Ultimate Orb anti-detect browser features
Ultimate Orb anti-detect browser was developed specifically for users who specialize in multi-accounting. A distinctive feature of this extension is that it does not hide real browser fingerprints, but replaces them with others by choosing their existing base. That is, real data of other users are also used, a little bit from each. Thanks to this, the system does not see any violations. Multi-threaded work, which in reality you do on your own from one device, will look to the anti-fraud system as the simultaneous work of a large number of users. Nothing suspicious and nothing that could cause a ban.
Among the distinctive features of the Ultimate Orb browser extension, we highlight:
Quick and easy profile creation: no more than 15 seconds to create one.
Support for all types of proxy protocols, both the most popular and fairly new SSH and TOR, which allows you to form chains of servers for stable and efficient operation without restrictions.
A simple, logically built and easy-to-use interface, the presence of detailed instructions: will ensure a quick start of work.
A large variety of settings, including security, browser appearance, page scale, colors: makes the work individual and convenient.
Optimized workspace: virtual desktops for working with each profile (Spaces), profile management (Profile Hub), which allows you to start and stop them in bulk, see which ones are currently running and which are not.
An abundance of useful options for simple and convenient work: smart tabs (they can be closed and opened with a click, dragged around the working window), quick page search (allows you to instantly find what you are looking for), the ability to export and import cookies, etc.
All this allows us to say with confidence that in Ultimate Orb each user will find a reliable, multifunctional and very easy-to-use assistant. It remains only to learn how to set up work with this anti-detect browser.
Launching Ultimate Orb
Now let's take a closer look at how to get started with the Ultimate Orb antidetect browser. Follow our guidelines:
Launch the browser extension. The program will immediately prompt you to log in. Enter your username and password in the appropriate boxes. After that, a built-in assistant will open in front of you, which will provide you with sufficiently detailed information about the functionality of the program. Even if you are already familiar with them, we still recommend that you read everything carefully again. But if that doesn't interest you, you can simply click on the button on the left to skip the tutorial and move on.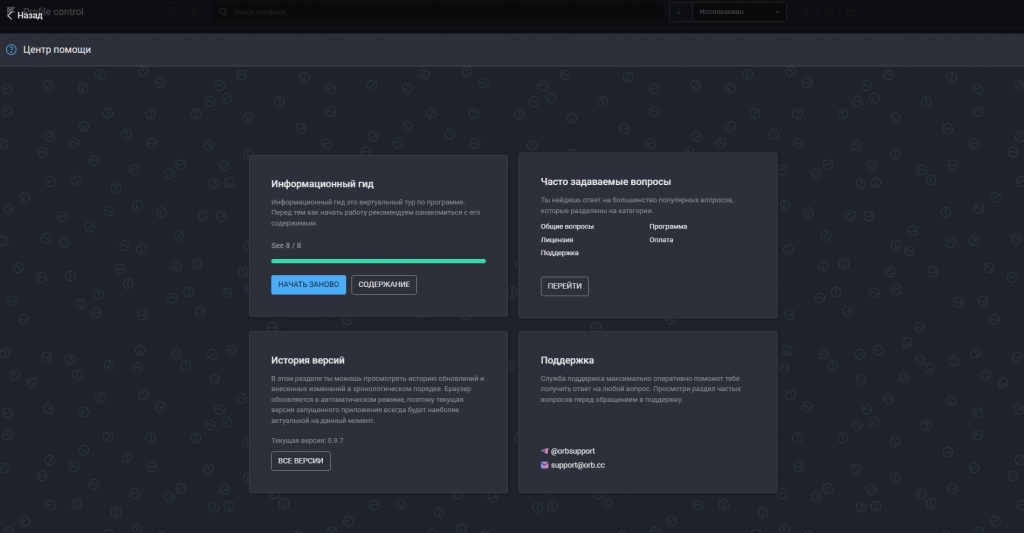 We press the key combination "Ctrl + N" from the keyboard; in order to create a new profile. You can also click on the corresponding button in the upper left corner.
A new window opens, in which it is necessary to fill in the appropriate columns. So, we come up with and write down the name of the profile, select the type of connection from the drop-down list. In the appropriate boxes, specify the IP address and port of the proxy, as well as the login and password, if you have authorization. In the same row, at the end, click on the checkmark button to check that the connection is active.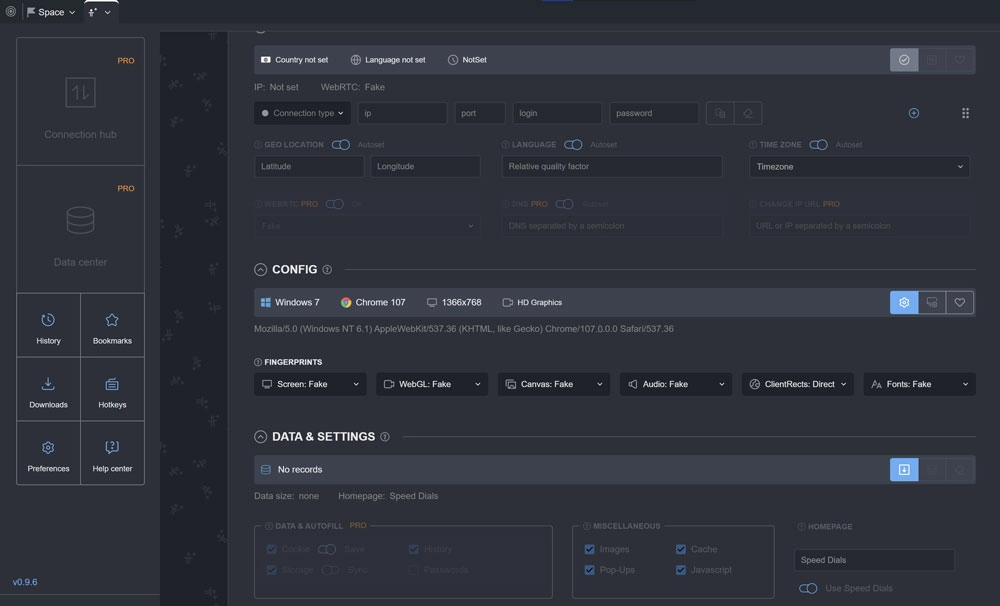 Do you want to form a chain of proxy servers? Then click on the button with the image of a plus sign ("+"). A window similar to the previous one opens. It also needs to be filled in with relevant information. The number of proxies in the chain can be unlimited. But practice shows that for safe and stable operation it will be quite enough to connect 2-3 servers. The more there are, the more reliable, but the connection speed will suffer greatly from this.
Choose a new configuration for your computer. To do this, we go down to the "Configuration" block. Here we click on the small button with the image of the monitor on the left. The corresponding filter will open. Here you can select the operating system, search engine, video card, screen resolution, battery and other data that will allow you to create a virtual profile.

Go to the lowest, third block "Data and Settings". If you are creating a new profile, then we leave all the columns here as they are, you do not need to click anything. Do you already have profiles? Then in this block you can import ready-made settings. The last step in the – click on the "Save and Run" button.

To make sure the extension is already active, check your IP address using the appropriate online service.

One of the most significant advantages of the Ultimate Orb – the ability to create new, unique profiles in each tab, assigning them their own configurations and IP addresses. So you can work with the same site from different profiles. And their number – unlimited. Ultimate Orb eliminates one of the most significant mistakes that developers of anti-detect browsers make. The extension is built on the same engine as the most popular regular browsers, which allows it not only to form a new digital identity of the user, but also to make it quite "real"; for anti-fraud systems.

How to make Ultimate Orb stable

The fact that the Ultimate Orb – we have already seen a multifunctional and easy-to-use solution. But still, its stability and efficiency directly depends on the proxies that will be used for anonymous connection. The fact is that if the network is accessed from different profiles, but from the same IP address, the system will instantly identify this and immediately mark a violation, followed by a ban. Mobile proxies – this is the final touch that will help create a unique account. And free servers – not an option. They should be immediately excluded from consideration due to their very low reliability.

The best option for today to work with the anti-detect browser – mobile proxies from the MobileProxy.Space service. You can follow the link https://mobileproxy.space/user.html?buyproxy to learn more about their functionality . With their help, you will ensure complete anonymity and security of your online activities, be able to effectively bypass regional blocking, and simultaneously work with a huge number of profiles without fear of a ban. A 24/7 technical support service will instantly respond to any difficulties and help solve the problem quickly and efficiently.

---

Share this article: