Using an archiver to combat data leaks: ARZip + DLP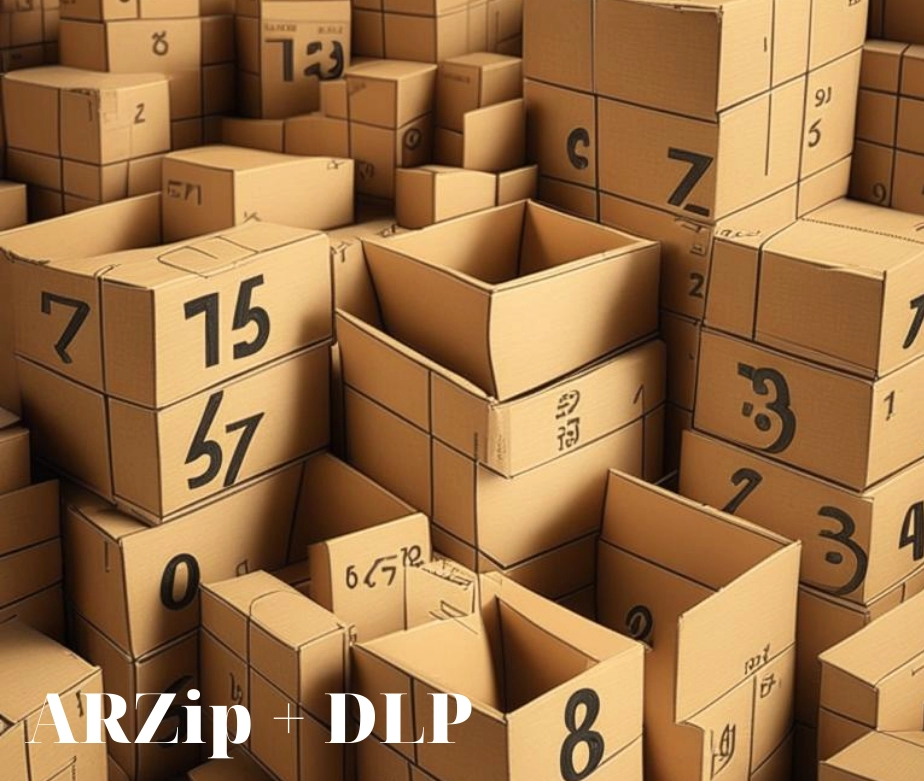 Protect your own data when browsing the Internet, prevent leakage of personal information, including from password-protected archives — one of the main tasks facing modern corporate network users. To solve it, the modern IT-technologies market offers various software products and more. One of the most effective options that has already proven its functionality and ease of use in practice— ARZip archiver.
Now let's dwell on the problem itself in more detail, and also show you how you can download DLP using the ARZip archiver. We will also suggest one of the most effective and easy-to-use ways to prevent unauthorized access and leakage of personal data.
What is the problem?
Initially, leak prevention software (DLP-system) was conceived as a convenient and efficient tool to use. But, today, practice shows that many problems arise from it in work. The fact is that the settings of an advanced DLP system manage to see a threat of leakage in each filled archive, which, as a result, forces them to block the sending of such data to the external network. Working with password-protected archives – quite a serious task for DLP.
All companies that use leak prevention systems in practice set up a different response to such outgoing archived files. Many solve the problem of leaks by sending all compressed files to the so-called quarantine, where they will be checked manually. That is, initially a security specialist conducts an audit, and after that, direct sending is allowed. This takes extra time and effort. How effective is such action? It is impossible to answer unambiguously, since the human factor will be quite significant here. It is impossible to discard the option that the specialist simply does not notice the prohibited contents of the archive or agrees to send it by mistake.
Now, if DLP systems could look inside password-protected archives and find data important for business in them, then this would minimize such problems and significantly increase the efficiency of preventing important information leaks. In addition, such an automatic solution would save specialists from the network security department from the same type of routine work and would minimize the human factor. And there is such a way. Using the ARZip extension in your work, you will endow DLP systems with a unique super ability to look inside password-protected archives.
Distinctive features of ARZip
The ARZip archiver works on the basis of advanced modern algorithms. In terms of compression speed and work efficiency, it is not inferior to the world's top solutions, although in fact – This is a domestic development. Among its functionalities, it is worth highlighting:
The ability to open any archives generated on a computer by an organization.
Convenience and ease of use. The ARZip window includes a menu and a toolbar that can be configured individually depending on the mode of operation, as well as a working window that will display data on the contents of the archive or a single folder.
The ability to integrate with a DLP system in order to provide it with the ability to automatically scan files, determining the presence of content in them that is prohibited from being sent outside the local network.
Ability to use in any organization whose corporate infrastructure is built on both domestic and foreign operating systems. Today there is a version of the archiver for Astra Linux and Windows , and soon support for Red OS and Alt Linux will appear on the market.
Easy and convenient creation of an archive. To do this, you will need to specify its name, format, and update method. In the latter case, there are several options: with updating files, with replacing files, updating existing files.
Constant expansion of product functionality, which is provided by modularity support. There is support for launching proposals from the archive, error logging, adding comments to archived files. The developers of the archiver claim that support for .tar and .gz will be added soon, which will allow the use of this software on UNIX-like systems.
In order to organize interaction with DLP systems, the company's management will need to issue an order according to which ARZip will be used as a corporate archiver. The security specialist will be able to create a master password for the organization directly through the management console in order to interact with the DLP, as well as change them if necessary. The restAPI technology is used for integration.
Convenient and fast integration of ARZip with all DLPs on the market. The product will be compatible with any solutions implemented through technology partnerships with development companies. We are talking about Cyberprotect, Zecurion, SearchInform, etc.
Full support for Zip-, Rar-archives, as well as the ability to run programs directly from them. That is, you can install new software without first unpacking the distribution.
Peculiarities of ARZip operation in the process of combating data leaks
In operation, the ARZip archiver is quite simple. The process of its work can be described as a chain of successive actions:
The ARZip archiver generates an archive, protecting it with a password. The security specialist receives this password as a file on the ARZip server.
If the archived file is supposed to be sent outside the company, it must be checked by the DLP system. But, due to the presence of a protective password, this system cannot open it on its own.
The DLP system contacts the ARZip server in order to access the contents of the archive. That is, here we are talking about obtaining an access password. Upon receiving the appropriate permission, the DLP system carefully checks all files in the protected archive.
During the process of unpacking the archive, the system will automatically replace the policies set in a particular organization. It is supposed to prohibit or, conversely, allow sending the contents of archived files outside the organization's perimeter.
If sending is allowed, the viewed files are archived again, protected with a password, and only then sent to an external destination. If it turns out that sending is prohibited, the corresponding documentation is sent to quarantine, and the security specialist receives a notification from the DLP system. As a result, a person independently checks quarantined files and decides whether to send them to an external network or block this action.
As you can see, in the work of DLP systems, the ARZip archiver will be a fairly convenient and reliable assistant that will help you avoid leaking important documentation to the public network or to those recipients who are not intended for it.
We provide a high level of security on the Internet
Networking is getting more and more risky every day. Algorithms used by attackers to gain access to personal data, important information of corporate clients and individuals are constantly being improved. Hacker attacks are becoming more sophisticated and, alas, effective. And if ensuring the protection of local networks of a particular organization — this is the direct responsibility of a system administrator or a company security specialist, then in private use, each user must take care of himself on his own. But, today, not only those technologies that attackers use in their work are actively developing, but also those that are designed to provide reliable protection for users from hacking and other hacker attacks.
One of the most efficient, easy-to-use and affordable — mobile proxies. If you decide to connect them to work, then add an intermediary server to the chain of interaction between your device and the network. In this case, it will pass the entire data stream through itself, replacing the real IP-address and geolocation of your device with its own technical data. Thanks to this, your parameters will be securely hidden. This means that no intruder will be able to enter your computer or launch malware on it (unless you download it yourself from dubious sources on the network).
Due to the use of mobile proxies in practice, you get:
high level of privacy on the Internet;
guaranteed security, protection against any unauthorized access;
the ability to effectively bypass regional blockings established at the legislative level of a particular country;
higher connection speed, which is associated with the use of the technical capabilities of mobile network operators, as well as data caching;
the ability to work with multiple accounts, including using programs that automate data collection actions (parsers), etc.
Main — correctly navigate the market offers and select a reliable and responsible service provider. We want to note right away that free proxies — this is not an option for those who are looking for maximum functionality and convenience of networking. They are unstable, do not guarantee security and privacy. Moreover, those IP-addresses that they have at their disposal have long been blacklisted by search engines. That is, your attempt to enter from them will be immediately blocked by the system. What functionality can we talk about in this case?
Don't want to take risks? Make a choice in favor of stability and reliability? Then we recommend paying attention to mobile proxies from the MobileProxy.Space service. Each user is provided with a personal dedicated channel with unlimited traffic and access to a million pool of IP-addresses from those that cellular network operators allocate to their customers. Entering from such IPs will not cause any doubts in anti-fraud systems, which means that blocking and other sanctions will not be applied to you. Additional functionality of mobile proxies from the MobileProxy.Space service includes simultaneous operation on the HTTP(S) and Socks5 protocols, as well as the ability to change geolocation and mobile network operator directly in the work to bypass regional blocking.
Click on https://mobileproxy.space/en/user.html?buyproxy to learn more about this product in detail. You also have the opportunity to use a two-hour testing completely free of charge. So, even before buying a mobile proxy, you can make sure that this is the best solution that the modern market offers, including in the field of privacy and network security. We also invite you to explore our promotions and discounts.
---
Share this article: