SMMplanner and mobile proxies for autoposting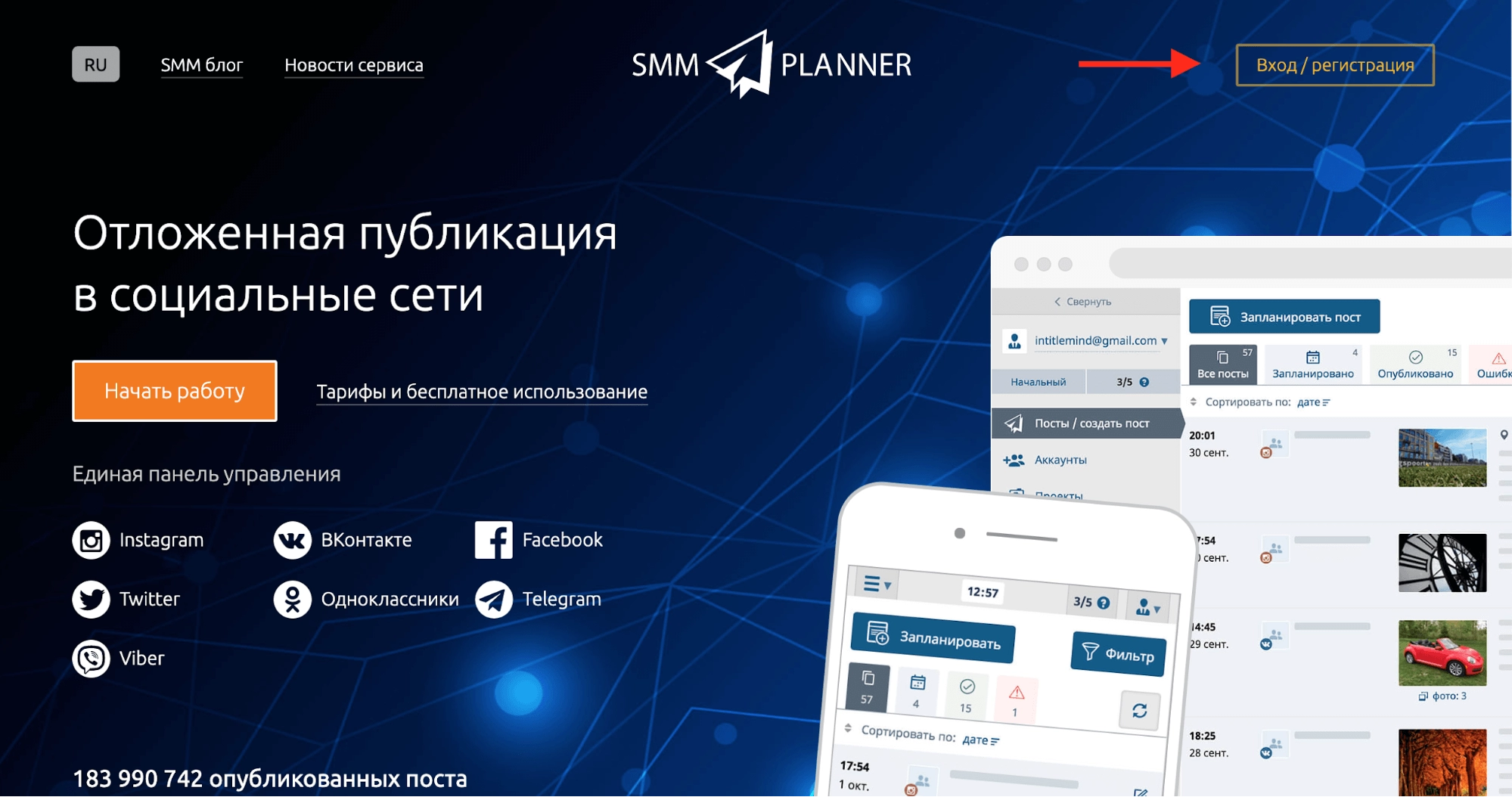 Work to promote pages in social networks, messengers requires SMM specialists not only certain skills and knowledge, but also a lot of time. To optimize your work and revitalize your account, you need to publish regularly, add new friends, delete inactive ones, like, write comments and do a lot of other related work. But what if there are several pages in the work at the same time? And these are not two or three, but dozens, or even hundreds. Where do you find the energy and time to do so much work? Especially when you consider the moment that most of these tasks are routine, of the same type.
One of the simplest, fastest and most effective solutions to this problem – connection to the SMMplanner service. This is an application that will help you schedule posts for social networks and other sites. Now let's take a closer look at the features of the SMMplanner program, its areas of application, advantages and disadvantages. We will also tell you why work should be done through mobile proxies, we will tell you where to buy a suitable solution and how to perform basic settings.
Some information about SMMplanner
SMMPlanner – a software product that will help you set up delayed publications and post them on social networks, instant messengers in accordance with the schedule that you set in the process of setting up publications on social networks. The application can significantly simplify the work of those who specialize in promoting pages in Instagram, Twitter , VKontakte, Telegram, Facebook, Viber.
As a result, you will receive a ready-made solution for placing simultaneously on several supported personal pages, whether it be blogs, communities, business accounts, etc. The planning method offered by the SMMplanner service will ensure the stable development of profiles, systematize work, and minimize your participation in the process of their promotion. With this program, you can not only publish posts, but also edit them quickly, with maximum convenience.
SMMplanner benefits for autoposting
Compared to other auto-posting programs, SMMplanner has a number of more than significant advantages. Here are the main ones:
Stability of working with Instagram. The fact is that not all analogues allow you to work with this social network due to the frequent change of its algorithms, strict, and in some cases even quite strict moderation.
The presence of a Russian-language interface. Thanks to this, users can easily navigate it, quickly get used to it. This will be especially relevant for those SMM specialists who do not feel comfortable in an English-speaking environment.
At the same time, a post can be published on 7 sites. This allows you to reach the target audience as much as possible with minimal investment of time and effort.
Allowed number of free scheduled posts per month – 100 pcs. If you plan more, then the choice should be stopped on the paid version of the SMMplanner PRO service. Users initially get access to the full version of the product for a detailed acquaintance with the functionality, a full set of settings.
The presence of a built-in image editor, which will help to design posts in an original way.
Support for software beacons (UTM tags) that help collect user information. Applies to those who clicked on a post or went to a page that is being promoted.
Ensuring reliable protection of transmitted data, as well as accounts in social networks, instant messengers.
The ability to add watermarks to the text or images of the post directly in the editor, making them unique and preventing copy-paste.
Along with these more than significant advantages, SMMplanner also has some disadvantages. So, one of the most common phenomena – unprofessional technical support. In some cases, the reaction of specialists can be expected in a day or two. But if we take into account the fairly stable operation of the service, a simple and convenient interface, the need to contact the technical support service will be very rare, if not necessary at all. Another drawback, and a very significant – blocking profiles in social networks near the SMMplanner connection. But we note right away that it's not the program itself that is to blame, but the fact that you organized the workflow incorrectly.
Mobile proxies as a solution
The main problem is that social networks, instant messengers and other platforms are extremely negative about multi-threaded actions, as well as the use of automated software. They stand for transparency in all actions. Therefore, if they notice signs of multi-accounting or autoposting, then those pages will be immediately banned, to which these actions were applied. That's the reason for the problem we talked about above.
Connecting to SMMplanner through mobile proxies will help to reliably hide the user's real IP address by replacing it with the one issued by mobile network operators to their users. As a result, it turns out that you will log into each account from different addresses, which will not cause any alertness in anti-fraud systems. For them, your multi-threaded actions will look quite real: as if the work is being done by different people. They will also not notice automated actions, in particular auto-posting.
Among other benefits that you can get from connecting to the work of mobile proxies, it is worth highlighting:
ensuring absolute confidentiality of work with social networks, as well as with any other Internet resources;
guaranteed security against theft of personal data, downloading malicious software and any other unauthorized access;
Effectively circumventing regional blocking, gaining access to any site;
higher connection speed, which is provided by data caching.
But you need to understand that only high-quality proxies can provide all this. Free servers, which today are in a fairly large number in the network – it's not an option. The fact is that their addresses have long been on the "black list"; social networks. And this means that any entry from them will be immediately blocked. But even if you are lucky enough to find a "clean" IP, then many other people can work from it, which will reduce both the speed and safety of the work. In addition, the likelihood that in the near future he will be in the "black" the list is quite high.
A more reliable and efficient – use of private mobile proxies, in particular from the MobileProxy.Space service. For more than reasonable money, you will get a dedicated channel with unlimited traffic, as well as access to almost a million pool of IP addresses. You can set up automatic timer-based address change that is convenient for you, use forced IP change, work simultaneously via HTTP(S) and Socks5 protocols. This is only a part of the functionality that mobile proxies from MobileProxy.Space are endowed with. Follow the link https://mobileproxy.space/user.html?buyproxy to learn more about the product and make sure that this is the best solution on the market today.
How to properly set up mobile proxies in SMMPlanner
The last thing you need to do to get the SMMPlanner service up and running safely is to make a few adjustments. But this will not be a problem if you strictly follow our recommendations:
We go through the standard registration on SMMPlanner, and if you are already registered on the service, then just log in.
Go to the personal page and select the option "My proxies" here. In order to be able to use our own proxies, we go through the following path: in the "Tariffs and Services" section; click on the "Additional Services" tab, and then – "Using your own proxies", then – "Buy".

Back to the section "My proxies" and here we click on the "Add/Edit Proxy" button. Select "Add proxy".
A new window will open in front of you, which you need to fill in with the technical data of the connected mobile proxies. So, the IP address and port of the server are entered in one window. They must be separated by a colon. Next, we mark from the proposed list the type of proxy protocol that will be used in the work and enter the login, access password (if you have not disabled authorization earlier). All the data that you need at this stage can be found in your personal account on the MobileProxy.Space service. After all the boxes are filled in, click on the "Add" button.

It is necessary to wait a few seconds until the system remembers the changes made and refresh the page. Once again we check the correctness of the settings and if everything is in order, then click on the "OK" button.
Now we are interested in the "Set proxy for hellip; accounts" option. Here you need to select the social network with which you plan to work and then specify a specific account. From the window that opens, select the added proxy server and click on the "Confirm" button.
Everything. This completes the settings. From now on, all your automated publications will not go directly from your personal computer, but through a mobile proxy server. And it is convenient and completely safe.
---
Share this article: