Snapchat: what is it and how to set it up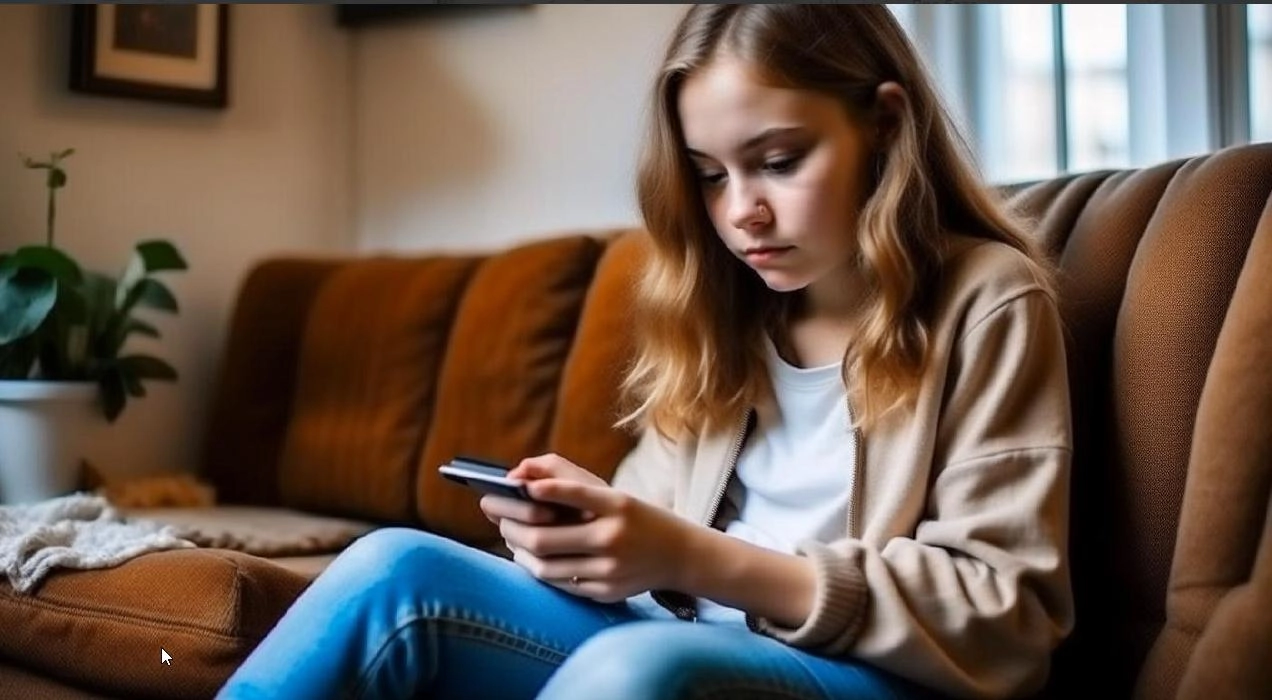 Snapchat — a popular application today that allows you to exchange messages on social networks. With its help, you can send and receive multimedia content, namely pictures and video files, which are called snaps. Users of devices running on the Android and iOS operating systems can use this product completely free of charge. It will be enough to simply download it from the appropriate application stores. But if you want advanced functionality, then you should opt for Snapchat+. But for such a premium subscription you will need to pay.
In today's review, we'll look in more detail at how Snapchat works and how it relates to artificial intelligence. Let's consider the benefits and risks of using it in practice. We will also show you how to make the necessary settings to get it up and running and ensure future stability of interaction and a high level of security.
Features of Snapchat
Initially, this offer was created as a private product for exchanging photos between users. But later, having assessed all the advantages of such a solution, the developers decided to release it to the market. Today, the functionality of Snapchat is quite wide. With everything you can send short videos, exchange messages, connect to video chats, and store photos. Moreover, today it contains generative artificial intelligence and many other additional options.
A distinctive feature of this software is that all the snaps you exchange will be temporary. That is, they will be available for viewing within 24 hours unless you set additional restrictions or delete them earlier. If you wish, you can add various filters, emoticons, lenses, text additions to your content, create group chats, make individual or general mailings to a certain category of users. Separately, I would like to highlight two more functions:
Discovery. This is the so-called "Opening function". Its work is similar to a news feed. Content from famous people or news services will be located here. If desired, this option can also be used to meet new people.
Spotlight. This option is called "In the spotlight." Involves actions similar to TikTok. This is a special tab, using which you can promote short viral content. These are videos that aim to go viral. It uses a special algorithm aimed at providing recommendations of the most interesting messages recommended for viewing. It is noteworthy that the selection is initially formed based on the user's interests, which increases efficiency.
We would like to draw your attention to the fact that Snapchat can officially be used by teenagers aged 13 years and older. But, as practice shows, among the users of this product there are quite a lot of children under this age. But here it is important to clearly understand what risks a child may encounter in practice when working with Snapchat. At the very least, adults should inform them about this and tell them what to do in a given situation.
Snapchat and artificial intelligence
Given the ever-growing interest of the audience in artificial intelligence, in particular in ChatGPT, the Snapchat developers added their own neural network to the application, called My AI. It is already built into the application and will appear automatically in the users' contact list. You will not be able to delete it, unlike the data of any other people. The only exception — These are users of the premium version of Snapchat+. Here you can disable the artificial intelligence option.
It works similarly to a classic chatbot. That is, the user writes a question that interests him, but does not receive an answer generated by the neural network. Along with ChatGPT My AI can provide not only short, but also more detailed answers, in in particular, solve mathematical problems. But here you need to understand that when working with artificial intelligence, some user data will be collected, in particular:
information about communication between the user and the neural network;
user location in order to provide more accurate answers to his questions;
Text message and photo you exchange via Snapchat
Due to these features, it is not recommended to use this application to exchange confidential and personal information. You also cannot turn to artificial intelligence to generate harmful and prohibited content.
To avoid serious problems when working with Snapchat's artificial intelligence, it is recommended to regularly delete your data. This is quite easy to do. It will be enough to go to the "Privacy Control" settings section, then select the "Clear data" option, and then &mdash. "Clear my AI data."
Along with My AI, Snapchat also features an artificial intelligence tool called Dreams. Based on your images, it will generate its own images. This is a kind of machine learning model performed within the framework of this service. In this case, you will also need to give permission to third parties, including the application itself, to use your images to generate their own products. These settings can be quickly configured and also quickly removed at any time.
Advantages and disadvantages of using Snapchat
To avoid all sorts of troubles from using Snapchat in practice and get the most out of the functionality of this application, you need to clearly understand the strengths and weaknesses of the product and be aware of all possible risks.
Dangers when using Snapchat
Users of the Snapchat application often face the same problems and risks as when working with other social networks. In particular, we are talking about:
presence of inappropriate content, in particular for young users;
high probability of contact with potentially dangerous individuals hidden behind beautiful avatars;
disappearance of messages when it is necessary to collect evidence of bullying or harassment can become a serious problem.
Also, the possibility of infinite scrolling cannot be ruled out. Despite the fact that Snapchat has a specially designed set of its own rules, it can still spread harmful and inappropriate content. Therefore, additional means of protection will be required.
Benefits of Snapchat
Almost every modern teenager — This is a full-fledged social personality. Children today spend a lot of their time online. Snapchat — this is what will help them develop in the online space.
Among the advantages of this product it is worth highlighting:
availability of a sufficiently large number of ways to communicate with friends and acquaintances;
an abundance of creative tools that will make communication with friends more interesting and exciting: all kinds of filters, artificial intelligence;
development of social communication skills, communication with other people;
presence of a "Parental Privacy Control" option: allows parents to receive information on how to set settings that protect against inappropriate content;
presence of warnings: users are sent a tooltip if someone tries to add them as friends without their consent;
the presence of restrictions in the chat that exclude the ability to communicate with other users who have not been added as friends;
before being able to send friend invitations, the user must have several common contacts with other people, which is intended to increase the security of interaction with the site;
the presence of the Here For You option, aimed at maintaining mental health: allows you to overcome emotional crises and deal with hidden internal problems;
availability of the Safety Snapshot tool, designed to teach teenagers digital literacy, in particular with regulations in the field of online safety and privacy.
As you can see, Snapchat has a lot of advantages and not only children, but also parents can appreciate them. Here teenagers will find something that will allow them to express their individuality, tell the general audience about their own interests and preferences, without fear of judgment.
Now let's take a closer look at the features of setting up Snapchat for work.
Setting up Snapchat to work
Snapchat can be used not only for communication, but also for business development. Considering that messages are stored here for only one day, representatives of the target audience are more focused on what they see on the Internet. They understand that they may not have a second chance to find this information. This means that if they come across a product that really interests them, they need to buy it. What target audience will you have on Snapchat? Here are just a few numbers: over 800 million photos are sent daily using this platform, and the number of active users today has already exceeded 100 million. By the way, these figures are already higher than those of Twitter statistics. This means it's time to take 8 simple steps to start using Snapchat to its full potential. Let's look at each stage in more detail.
Download and register
To do this, we go to the Apple Store or Play Market. Click on the "Download" button. After installing the application on your device, open it. You will immediately be presented with 2 options: "Login" or Register". Initially, you need to create your own account. To do this, click on the "Registration" button. and enter your full name, date of birth, nickname. By the way, the nickname should consist of no more than 15 characters. It is written in Latin. You can add numbers and one of the symbols. Keep in mind the fact that you won't be able to change your Snapchat nickname in the future, that is, choose a really good option.
You also need to come up with a password. The password must consist of at least 8 characters. You can confirm your registration either via email or phone number. Depending on the option you choose, you will be sent a message with a code or a call. You will need to enter the received numbers in the last window. And that is all. If everything went well, the following picture should appear in front of you: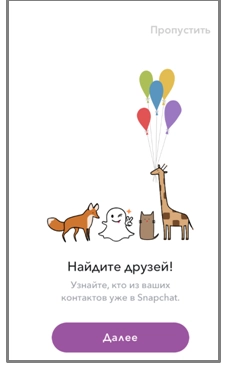 Finding friends
To do this, Snapchat allows you to use your phone book. To do this, you need to give permission to the application to access your contacts. That is, everything is simple here: click on the "Allow" button. Thanks to this, anyone who has your phone number will also be able to find your profile. In the event that you do not have a person's number, but you want to add him to your friends, you need to go to the main menu of the application and there click on the settings button — image of a gear in the upper right corner. From the drop-down list, click the "Add friends" option. The program will prompt you to search:
by username;
from the contact list;
by Snap code;
next to me;
share name.
Well, everything is clear with a login and phone number, but the Snap code assumes that you can find a friend by a screenshot of his Snap code. In this case, you need to select a photo that has a code. The application will scan it and find your user. Option "Near me" assumes that you will be able to exchange content with users whom you do not know, but they are geographically close to you. To give the system your coordinates, click on the "Ok" button. when a message appears on the screen saying "Snapchat wants to use your location data." When you select the "Share name" option you will be offered a choice of several social networks where you enter your login. Anyone who knows your username will be able to find you on Snapchat.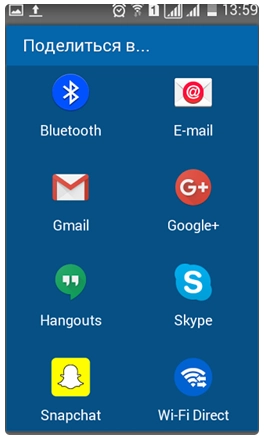 Another option, which we did not talk about above, involves using a link. Snapchat generates it specifically for your profile. It will contain both the address itself and your login. You can send it to your friends asking them to join you.
Now we would like to draw your attention to a number of symbols that are used in the contact list next to users. What are they talking about:
Golden star. It will be placed next to the user who responded to your snap over the past 24 hours.
Yellow heart. This is a kind of "golden" user. That is, the friend with whom you exchanged the largest number of snaps during the entire period of working with the application.
Red heart. The person with whom you have had the most active communication over the past 2 weeks.
Two pink hearts. This is a symbol of best friends for 2 months.
Smiley child. This is a user you recently became friends with.
Smiley with glasses. Indicates that you have a common best friend.
Grimace emoticon. Indicates that your best friend will also be this user's best friend.
Smiley with a grin. This means that you are this person's best friend, but he is not your best friend.
Fire. Shows that you send content to this person every day and he does the same. The longer you communicate, the size of the fire will increase.
100. This is the next stage after the fire and means that you have been communicating with this person for more than 100 days in a row.
Hourglass. They remind you that you haven't communicated with this user for quite some time. That is, the application will prompt you to send a picture and change this icon.
Cake. It's easy to guess: this is a contact whose birthday is today.
You can also see considerations such as cactus, flasher, crown, pear, hands. These are official accounts of fairly popular personalities, a kind of snap stars.
Customize your preferences
Before you proceed to using Snapchat directly, you need to double-check your own settings. This will make subsequent communication as convenient and comfortable for you as possible. To do this, you need to initially click on the ghost image in the center of the top panel, and then go to the settings menu (remember that this is a gear located in the upper right corner). Here you can update your personal data, set who will be allowed to send you Snaps, and view your personal stories. Here you can also disable the ability to search for your account by phone number. To do this, you need to click on the phone number option and uncheck the box there.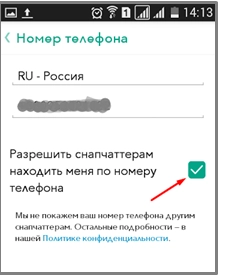 It is also possible to make settings in the "Useful services" block. So here you can enable filters and travel mode. But in this case, you will need to provide access to your geodata.
Creating the first Snap
There is nothing complicated about this. The application automatically activates your phone's camera. That is, you just need to press the circle at the bottom of the screen and hold it while recording the video, and then release it. To take a photo, you just need to click on this circle. To switch between the front and external cameras, use the standard camera icon in the upper right corner. You can also just double-click on the screen itself.
The light is not bright enough, use a flash. You will find the corresponding icon in the upper left corner of the screen.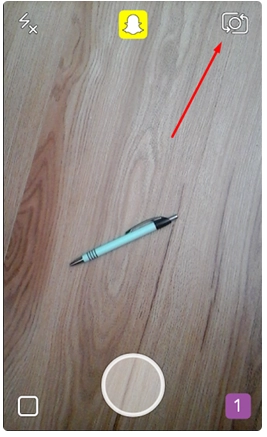 Add effects
Before sending your snaps, you can improve the photo or video, supplement it with effects, captions, and apply filters. All this is what will allow you to make the material you send more original and humorous:
If you click on the image of the letter "T" on the screen, you can sign your photo, thereby adding some meaning to your messenger. If desired, you can choose the appropriate font color. To do this, click on the letter again and select the appropriate option.
If you want to draw something on your photo, click on the pencil image at the top of the screen. Just like with fonts, you can easily choose the appropriate color. If you want to expand the palette of shades, swipe left or right across the screen under the color ruler.
To add an emoticon or a sticker, just click on the third icon at the top of the screen — a square with a folded edge.
To add effects, you just need to slide your finger across the screen from left to right and see all the possible options that you can apply to your finished photo or snapshot. It is also possible to use a set of special local filters, only if you allow the application to determine your geolocation. Such effects include the name of the city, temperature and local time, as well as a number of additional pictures. If you wish, you can even apply several filters at the same time. That is, after you select the first effect, you will need to hold it with one finger on the screen, and the second – scroll to next and mark
Add lenses. Quite an interesting feature of Snapchat, which can be used by all users of the iOS operating system as well as Android 5 and higher. To do this, you need to turn on the front camera and hold the screen in the face area, holding it until the mesh appears. You can also use existing lenses and add them to the finished photo.
Add video effects. So, you can change the recording speed to slow or vice versa, fast, and also play the video backwards.

Send snap
Initially, you need to set the period of time during which your video or photo will be active on the network. To do this, there is a special timer in the lower left part of the screen. But in any case, we would like to draw your attention to the fact that if you do not make any settings, your videos and photos will be automatically deleted within a day.
Now you need to select the users who will have access to your content. To do this, click on the "My stories" option. Thanks to this, you make your material available to all subscribers. They will be able to view it an unlimited number of times, but within the time frame you choose or 24 Hours. You can also select only one contact from the list and send the video to him. But in this case, he will be able to watch it only once and will disappear immediately after watching the video.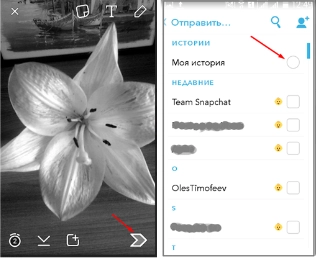 Getting snap
If one of your friends sends you a Snap, you will see a notification in the lower left corner of the screen. After clicking on it, a message will open in front of you, and with it the corresponding icons:
raspberry arrow — the message is sent without sound;
purple arrow — the message is sent with sound;
blue arrow — a text message is sent;
raspberry square — you received several messages without sound;
purple square — you have received several audio messages;
blue square — you have received several text messages.
We would like to draw your attention to the fact that if these figures are without fill, it means your friend has already read your message. If 3 additional triangles appear next to the colored arrows without fill on each side, this will indicate that someone took a screenshot of your messages, respectively — raspberry without sound, purple — with sound, blue — text.
If one of your friends shares a Snap, not with you personally, but with the entire audience that he has in his contacts, you will see notifications in the lower right corner of the screen.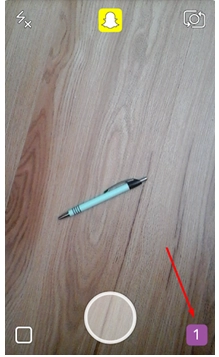 Real-time message
To start chatting with your friends here and now, you need to select the chat icon at the bottom left of the screen. After this, a standard field will open in front of you, in which you can write messages, make calls, including videos, and exchange photos. This way you get live communication. Well, you need to understand that as soon as you leave the chat, the entire history of messages in it is automatically deleted forever. That is, if there is something interesting there that you want to save for yourself, you will need to take a screenshot.
To summarize
As you can see, Snapchat – Quite an interesting application that especially teenagers can appreciate. There is a lot of functionality here for active communication with friends and subscribers. But still, when working with it, you must not forget about your own safety. And this is rather the responsibility of the parents, because few children will pay sufficient attention to this aspect. In this case, the optimal solution would be to use mobile proxies. This is what will allow you to reliably hide the IP address of your user device, thereby ensuring reliable protection from any unauthorized access, as well as confidentiality of communication. Moreover, when working with Snapchat, you can use different geolocations to further expand the number of your friends and remove all kinds of regional restrictions and prohibitions.
One of the best solutions in this market segment today — These are mobile proxies from the MobileProxy.Space service. Here https://mobileproxy.space/en/user.html?buyproxy you can get acquainted with their functionality in more detail and make sure that this is really what will allow you to set up your work with Snapchat as quickly as possible, simply efficiently and safely. You also have a 24-hour technical support service at your disposal, as well as a free two-hour test, using which you can check the convenience of working with mobile proxies before purchasing them. Any questions? Take a look at the FAQ block. You may already find answers to them here.
---
Share this article: