What are ISP and Residential Proxies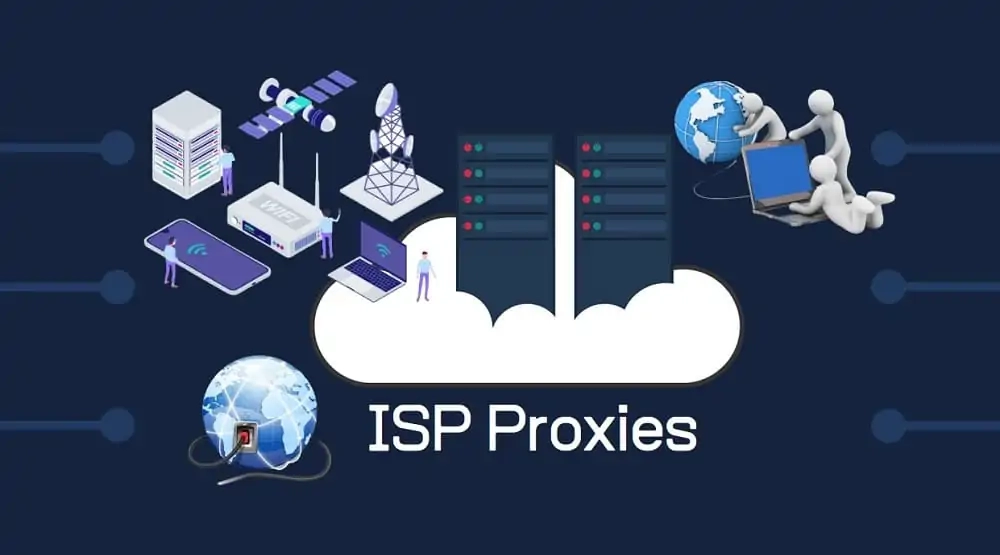 Today, proxy servers have become an integral part of working on the Internet. They provide users with a high level of anonymity and security in networking, allow them to bypass regional blocking, engage in multi-accounting, including using automatic promotion services. They are widely used by Internet marketers, arbitrageurs, SEO and SMM specialists, as well as representatives many other professions. Proxies will also be useful for ordinary users, those who would like to provide themselves with unlimited opportunities for surfing the net.
If you are just thinking about connecting to the work of such servers, then you probably have a lot of questions. What are ISPs and Residential Proxies? What are the features and benefits of both options? Which servers are best suited for increasing the number of similar requests? Is it possible to compare costs for each network in order to understand where the material benefits will be more tangible. It is on these and related questions that we now dwell in as much detail as possible. The information obtained will help you navigate the market offers and choose the solution that will ensure the effective development of your business.
Introducing ISP proxy
The abbreviation ISP stands for classic static proxies. These are the servers that users can rent or purchase from providers. In their work, they use IP addresses located in their data centers. Sites, social networks and other sites that you access through ISP proxies will identify you as real users. That is, all requests coming from your device will go through the provider's data center. There will be no third-party crossings along the way. And this means that the connection speed here will be quite high.
But, along with such advantages, ISP proxies also have disadvantages. In particular, the servers of providers will not be able to simultaneously process a large number of requests when working with target Internet resources. This is especially true for sites with complex architecture and simple blocking mechanisms. That is, the probability of running into a ban with their help during multi-threaded work still exists. And she is quite tall.
What are residential proxy servers?
Resident proxy servers are built on the technical capabilities of real users' devices. They were united in a global network, often for a fee. In order to reach the recipient, the request that you sent may go far through more than one such server, which significantly slows down the interaction process. But such proxies will never be blocked, because they use real IP addresses. This is true even when working with complex open source sites. They allow you to receive the most accurate information in relation to geolocation, device type or operating system based on what settings the user has made.
That is, if you decide to use residential proxies in your work, you will get an effective tool for working with multiple accounts. The number of requests you can send per unit of time – unlimited. But the response time will have to wait.
As you can see, both ISPs and residential proxies have their advantages and disadvantages. You just need to find out which option will best suit the specifics of your business.
Where ISP proxies are more effective: use cases
Everyone should decide for himself which proxies should be used when solving urgent problems. We will give three examples where ISP proxies proved to be the most efficient and reliable in operation:
Tourism business. We are talking about the development of software that provides a selection of optimal flights by destination. Such a service involves the collection of information on all air carriers, as well as its subsequent structuring according to various parameters: departure date, availability / absence of transfers, seat selection, baggage availability, hand luggage requirements, price, etc. In this case, ISP proxies will become a reliable assistant for fast data collection from the official websites of air carriers (have an open source code). Simultaneous work with different sites is provided, bypassing regional blocking.
Fintech insights. Representatives of this business in their daily work are faced with the need to access different target sites under IP addresses tied to different locations. This is the only way they will be able to ensure the parsing of data from open sources among competitors, to obtain reliable information about the current tariffs for the services of software systems. Relevant for services intended for money transfers. This allows you to develop an optimal development strategy, add real-time measurements to it, and form a package of services at competitive prices.
Advertising and e-commerce. Connecting an ISP proxy to the work of specialists in this area will ensure the effective launch of advertising on social networks, quick and easy communication with suppliers, regardless of their territorial location. The maximum benefit from the use of ISP servers in the work will be appreciated by a business that has representative offices in different countries of the world.
Where Residential Proxies Are More Effective: Use Cases
In turn, Residential proxies have proved to be effective and reliable in the following business categories:
SaaS business representatives. This is a service called Software as a Service. One of its areas of application – advertising networks. Having Resident Proxies at their disposal, specialists will be able to test client advertising links, checking the correctness of their display in accordance with the manager's idea.
Electronic commerce, promotion of Internet resources. To bring your site or a single product to the market, you need to conduct a comprehensive study. The websites of competitors are analyzed, the assortment of goods, prices, interest in them of representatives of the target audience are studied. SEO specialists parse data in order to collect a semantic core, which will become the basis for the concept of online store promotion, help optimize internal pages and the catalog as a whole.
Retail, pharmaceuticals. Using Residential Proxies for open source sites, both pharmacists and consumers can quickly and easily collect data on the drugs they need, select among the available options those that will be the most affordable.
TOP 5 questions about ISPs and residential proxies
In this block, we have collected the 5 most popular questions from users regarding ISPs and Residential Proxies. It is highly likely that here you will find useful answers for yourself.
What devices and IP addresses do ISPs and Residential Proxies use? ISP proxies operate on the server hardware of ISPs. They give users real IP addresses allocated specifically for commercial use. Residential proxies work on real user devices from around the world. That is, here the addresses are also real and working.
What about the price? Which option will be cheaper? A more affordable solution – ISP proxy. But Residential proxies will cost users a little more.
When should I use an ISP and when should I use Residential Proxies? ISP Proxy – an option for business representatives whose work involves the use of simple target sites. They will be indispensable where you can use the capabilities of a static pool of IP addresses. If more complex tasks are ahead that require the most complete coverage, then Residential proxies are the best option due to their dynamism (rotation by IP is provided).
If you have to work with the simultaneous sending of multiple requests, then such proxies are more suitable for solving this problem? ISP proxies have limits on the number of simultaneous requests sent, especially if you connect a common pool of IP addresses to work. Residential proxies will allow you to send an unlimited number of requests.
What are the key benefits of each proxy option? ISP proxies, due to direct interaction with the network, will be faster in operation. For social networks and any other Internet sites, entering from them will look as real and reliable as possible. Residential proxies will provide access to "complex" sites, allow you to pull the necessary data from them, ensure stable multi-threaded work.
So what proxy option to choose for work: summing up
Difficulty deciding which proxies are right for your work? It is not possible to weigh all the "pros" and "against" such options? We suggest paying attention to the universal solution – mobile proxy servers from the MobileProxy.Space service. They will provide maximum functionality in all working conditions. Their work is based on the technical capabilities of mobile network operators and involves the use of a pool of IP addresses that are available to them.
They will be able to form a profile of a real user, which will avoid suspicion from anti-fraud systems. It also provides for rotation by geolocation and cellular network operator, the possibility of automatic or forced change of IP addresses, simultaneous operation via HTTP (S) and Socks5 protocols. More information about MobileProxy.Space mobile proxies, current tariffs can be found here https://mobileproxy.space/en/user.html?buyproxy.
---
Share this article: