Neural networks-designers, automation, work process accelerators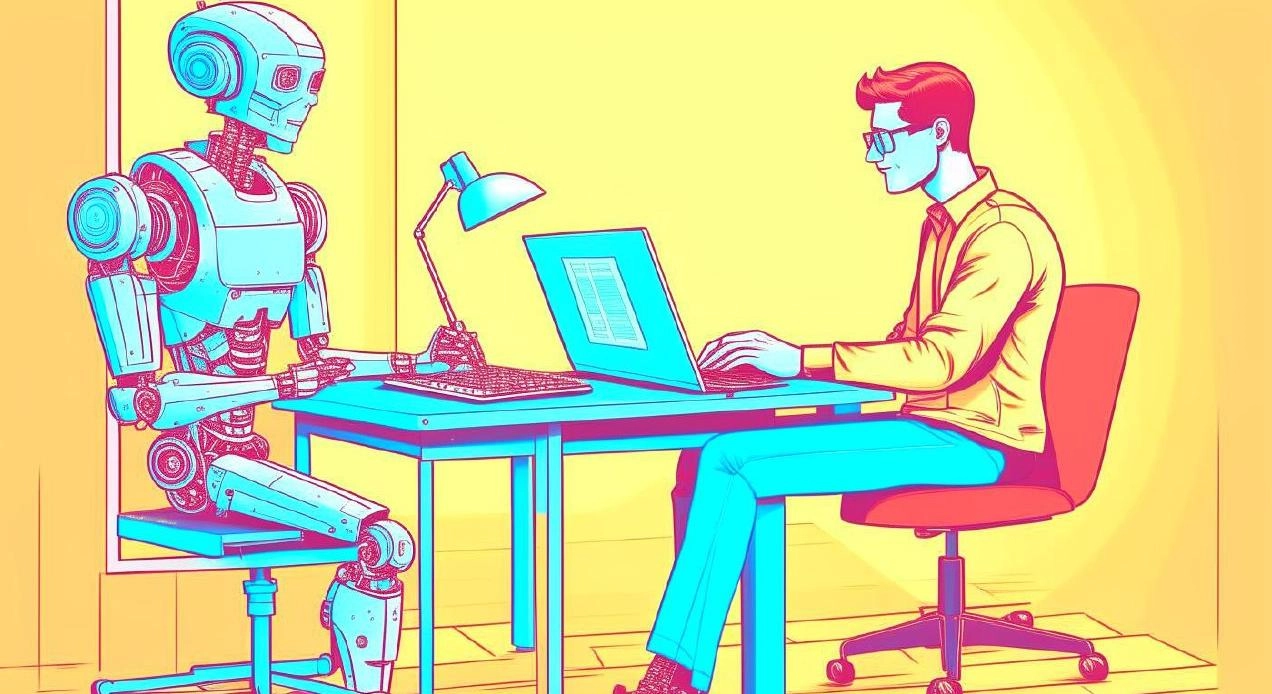 Neural networks and artificial intelligence in general have come into mass use relatively recently. At its core, a neural network — This is a rather complex mathematical model that in its work tries to imitate the activity of the human brain. That is, it is capable of learning based on the data that will be loaded into it. In this case, you will not need to create any separate code to solve a particular problem.
During the time that neural networks are publicly available, many users have formed their own opinions regarding them. Some believe that artificial intelligence will never be able to replace a person and efficiently perform the work that is assigned to him in daily practice. Others today actively use neural networks to generate text and graphic content, create program codes, test software before launching it on the market, etc. But every person has the right to their own opinion, whatever it may be: true or false.
Our review is dedicated directly to neural networks, namely, which options should be used to solve a particular problem. You can get acquainted with services that will help you automatically generate code here. Now we will look at neural network constructors, action automators and work process accelerators. But whether to use them in practice — It's an individual matter.
TOP 5 neural networks of designers and automation engineers
If your professional activity is related to the development of tests to check the functionality of software, then you can shift part of your daily responsibilities to artificial intelligence, and spend the free time on developing new strategies and searching for extraordinary ideas. So, in this case you should use the following neural networks:
Dante-AI. This platform is designed for creating custom chat bots based on ChatGPT 4th generation. It is developed individually for the characteristics of a company or an individual. To work with this neural network, you do not need to have any programming skills. It is noteworthy that the bot is trained on its own data. Thanks to this, you get a product that will be maximally adapted to the specifics of your work. Data loading can be done through files or links. The bot is able to recognize text content and use it as a training ground. It will gradually be able to provide more and more relevant answers to user queries.
10Web. Another platform based on artificial intelligence, designed for the creation, placement and subsequent optimization of Internet resources. Works with resources on the WordPress platform. It is characterized by increased efficiency and convenience in the work process due to the presence of a fairly wide range of tools. So there is a page accelerator here. If you decide to use it, you can reduce the loading speed of the main content, which will subsequently improve both the position of your site in search results and the user experience. Another highlight of this neural network – the presence of the innovative 10Web AI Assistant plugin, with the help of which text and graphic content on any topic is generated. If you decide to choose this site, you will receive a tool that will allow you to create websites from scratch, fill them with unique images and texts, and optimize them for search engine queries. And all this with minimal effort on your part.
UX Brain. This application is based on artificial intelligence and is intended for those who deal with UX research in their daily work. It is capable of extracting useful information directly from user data and analyzing projects. Based on the results of the work, a summary is drawn up and conclusions are drawn. There will certainly be references to the direct results of the study. Today this application supports 6 languages, but Russian is not among them.
Sendsteps. A fairly simple and easy-to-use platform, using which you can create presentations in a matter of minutes. Artificial intelligence generates truly attractive slides, including interactive ones, on average 10 times faster than if you did it manually. It is noteworthy that the application itself will find the necessary information in a text document, and based on it, create interactive presentations. This is the only product in our selection that has been certified according to ISO 27001 standards. This application also supports several language models.
Durable. This is one of the most convenient and fastest website generators today, powered by artificial intelligence. Using this designer, you can create completely ready-made Internet resources, including text and graphic content, a feedback block and contact information in literally a matter of minutes. Moreover, it contains editing tools. Using them, you can manually perform the appropriate modifications to bring your product to perfection. All sites that will be created using this designer will already include hosting, personal domains, search engine optimization, as well as analytics and a CRM system. Subsequently, you will be able to promote your resource using email newsletters, promotion on social networks, and also use generated advertising.
Selection of neural networks to speed up work processes
Acceleration of work processes – This is one of the mandatory stages of business optimization. This allows you to improve the performance of personnel and increase the profitability of the company as a whole. But in practice, implementing this does not always give the desired result. The fact is that often staff are physically unable to increase the productivity of their work. Moreover, there is a risk of deteriorating its quality. In this situation, artificial intelligence is also ready to help. In particular, to speed up work processes you can use neural networks such as:
Released. The functionality of this site includes creating release notes. The source data here is a ticket in Jira. Thanks to this, developers can quickly, simply, effectively describe releases and add comments to them, which in turn will also improve the convenience of the entire team and make your work on the project more organized and consistent. This neural network contains tools for writing text content, editing, breaking down into categories and blocks, and monitoring problems in subsequent work. You can also embed release notes directly into the application itself or directly on the website.
Argil. A platform designed to optimize work processes and production tasks. It will be able to create artificial intelligence models without code, and also provide a set of tools for generating text and graphical hints. With its help, you can create templates that increase the convenience of subsequent work, as well as enhance integration with other services.
YandexGPT. This neural network will work together with the Yandex voice assistant — Alice. She learned how to check text content, correct errors in it, independently generate posts for social networks, or create other content depending on the user's request. This mode is launched via a voice command in Yandex.Browser or any other Yandex application, on Stations, or even on a TV with a built-in voice assistant. It will sound something like this: "Alice, let's figure it out." But we must understand that the reliability of the facts that will be given out by Alice raises some doubts. This is due to the nuances of machine learning and the need to constantly update the neural network's knowledge base. But with such tasks, where you need to show your creativity and dream up, YandexGPT and Alice will cope perfectly. Today, work is already underway to implement this neural network directly into the search of Yandex.Browser, as well as into other products of the company.
Mano. Another assistant based on artificial intelligence, capable of automating a number of similar and routine tasks. In particular, artificial intelligence will independently read the material, compose a brief description of what it read, and draw conclusions. This will greatly simplify your work with long texts. Also, with its help, you can generate recurring letters for email distribution, create content for posting on social networks, website blogs. Moreover, this service has 24/7 technical support, as well as direct access to ChatGPT. Today, data alone is presented in the form of an extension for the Google Chrome browser, Edge and others .
Magic ToDo. One of the simplest and most intuitive neural networks to operate. The system will automatically break complex tasks into separate manageable blocks and outline the sequence of actions. Its work can be compared to a classic diary, in which a to-do list will be written down. You yourself will be able to arrange their order and importance depending on what you have to do first and how costly these tasks will be in terms of time of their efforts. It also provides the ability to filter the list of tasks by category, swap items, adjusting them to the individual characteristics of the work. If you want, you can export your completed to-do list to an iCal file or to a Todoist template with one click.
Reflectr. This is a kind of personal notepad, powered by artificial intelligence. And with its help, you will be able to structure all your work tasks, prioritize them, write down key ideas for each item, and make many other additional settings that will further increase the speed and efficiency of your work. This neural network is capable of generating tags and comments, creating indicators of mood and emotions, and even providing advice on content creation. There is a built-in mood calendar, with which you can instantly receive feedback and, accordingly, competent assistance, while maintaining your organization.
Emberly. Using this neural network, you can create mining cards and keep personal notes. All your files, bookmarks and notes will be stored in separate nodes, which will greatly simplify your work by structuring your thoughts. Also, this neural network will be able to generate text content, create mind maps, thereby organizing your ideas. There is also the possibility of collaborative editing.
To summarize
So, in this review we got acquainted with 12 modern neural networks, using which you can speed up work processes and automate the work of designers. Should they be used in practice? you decide. But in any case, we want to draw your attention to the fact that it is better to work with artificial intelligence and neural networks, and with the Internet in general, through mobile proxies. In this case, you get an intermediary server that will replace your real user data, in particular geolocation and IP address, with its own parameters. Thanks to this:
provides a high level of network security, protection against hacker attacks and any other unauthorized access;
confidentiality and anonymity of all actions are guaranteed;
access to sites from any country is provided, including those to which connection is prohibited for you at the legislative level;
Internet speed will increase due to data caching;
it will be possible to work with programs to automate network actions, perform multi-accounting, etc.
One of the best solutions today in this market segment — personal mobile proxies from the MobileProxy.Space service. More details about the functionality, features of cooperation, and current tariffs for different regions of the country can be found here at https://mobileproxy.space/user. html?buyproxy. You also have the opportunity to take advantage of a free 2-hour test, as well as contact technical support if the need arises.
---
Share this article: